Parineeti Chopra is a name that resonates with fans of Indian cinema for her versatile acting skills, charming personality, and remarkable journey in the film industry. Born on October 22, 1988, in Ambala, Haryana, India, Parineeti is known for her ability to portray a wide range of characters with depth and authenticity. In this article, we'll delve into the life and career of this talented actress who has left an indelible mark on Bollywood.
Early Life and Education:
Parineeti Chopra was born into a family with deep roots in the Indian film industry. Her father, Pawan Chopra, is a successful businessman, and her mother, Reena Chopra, is a homemaker. She is the cousin of the renowned actress Priyanka Chopra, which inevitably brought her closer to the world of showbiz.
Parineeti pursued her education in England, where she completed her triple honors degree in Business, Finance, and Economics from Manchester Business School. Her academic background is a testament to her intellect and determination.
The Bollywood Debut:
Parineeti's entry into Bollywood was not through a conventional route. Initially, she worked in the marketing department of Yash Raj Films, one of India's leading production houses. However, her passion for acting was evident, and she eventually convinced the YRF team to give her a chance in front of the camera.
Her acting debut came in 2011 with the film "Ladies vs Ricky Bahl," where she played a supporting role. Despite limited screen time, her performance was noticed, and she received the Filmfare Award for Best Female Debut.
Breakthrough and Recognition:
It was her second film, "Ishaqzaade" (2012), that truly catapulted Parineeti into the limelight. In this intense love story set against the backdrop of political rivalry, she played the lead role with remarkable conviction. Her performance was widely praised, and she earned her first nomination for the Filmfare Award for Best Actress.
Parineeti followed this success with a string of hit films, including "Shuddh Desi Romance" (2013), "Hasee Toh Phasee" (2014), and "Ishqedarriyaan" (2015). Her ability to effortlessly switch between different genres and characters made her a sought-after actress in the industry.
Versatility and Evolution:
One of Parineeti's greatest strengths is her versatility. She has portrayed a wide range of characters, from romantic comedies to intense dramas, and each time she has delivered a convincing performance. Her ability to adapt to various roles and her dedication to her craft have made her a respected figure in the Indian film industry.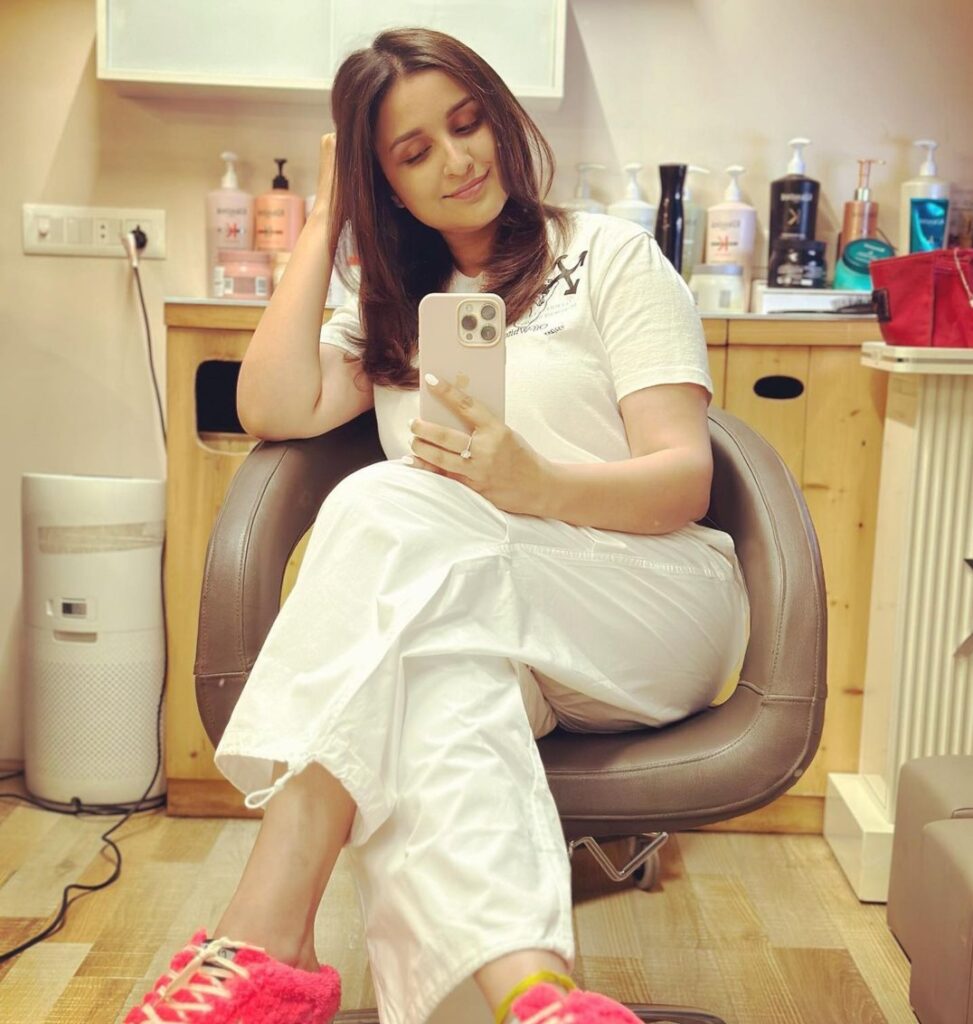 Recent Projects:
In recent years, Parineeti has continued to impress audiences with her roles in films like "Kesari" (2019) and "The Girl on the Train" (2021). Her dedication to her characters and the effort she puts into her roles have garnered critical acclaim.
Beyond Acting:
Parineeti Chopra is not just an accomplished actress; she's also a singer and philanthropist. She lent her voice to a few songs in her films, showcasing her musical talents. Additionally, she has actively supported various social causes, including education for underprivileged children.
In Conclusion:
Parineeti Chopra's journey in Bollywood is a testament to her talent, determination, and versatility. She has charmed audiences with her performances and established herself as a prominent actress in the Indian film industry. With each project, she continues to evolve and redefine her craft, leaving us eagerly anticipating what she has in store for the future. As she continues to take on diverse roles and challenge herself as an artist, Parineeti Chopra undoubtedly remains a name to watch in the world of Indian cinema.