Diwali, the festival of lights, is a time for celebration, joy, and togetherness. One of the most exciting aspects of this festival is choosing the perfect outfit that not only reflects your personal style but also radiates the festive spirit. In this article, we'll explore a variety of Diwali occasion outfits for women, offering a range of options from traditional attire to contemporary ensembles, ensuring you shine brightly during this auspicious celebration.
1. Traditional Elegance: The Saree
– The saree is a timeless and traditional choice for Diwali. Opt for silk, chiffon, or banarasi sarees with intricate zari work, embroidery, or embellishments.
   – Pair it with a contrasting blouse and traditional jewelry for a regal look.
2. Graceful Anarkali Suits
– Anarkali suits are a graceful and comfortable option. They feature long, flowy frocks with fitted leggings.
   – Choose vibrant colors and intricate embroidery to enhance the festive charm.
3. Embroidered Lehengas
– Lehengas are a glamorous choice for Diwali. Look for intricately embroidered or sequined lehengas with a matching choli and dupatta.
   – Opt for rich, jewel-toned colors to make a statement.
4. Contemporary Silhouettes: Indo-Western Fusion
– For those who prefer a modern twist, Indo-Western outfits blend traditional and contemporary styles.
– Consider pairing a crop top with a high-slit skirt or opting for a dhoti-style salwar suit.
5. Classic Salwar Kameez
– The classic salwar kameez is a versatile choice. Choose from straight-cut, A-line, or anarkali silhouettes.
– Embroidery, mirror work, or chikankari detailing adds elegance to this outfit.
6. Gota Patti Ensembles
– Gota Patti work is synonymous with Diwali fashion. This Rajasthani craft involves gold or silver ribbon embroidery.
   – Select suits, sarees, or lehengas adorned with Gota Patti work for a traditional yet glamorous look.
7. Bold Palazzo Suits
– Palazzo suits are comfortable and stylish. Pair wide-legged palazzo pants with a fitted kurta.
   – Vibrant prints and bold color combinations can make a striking impact.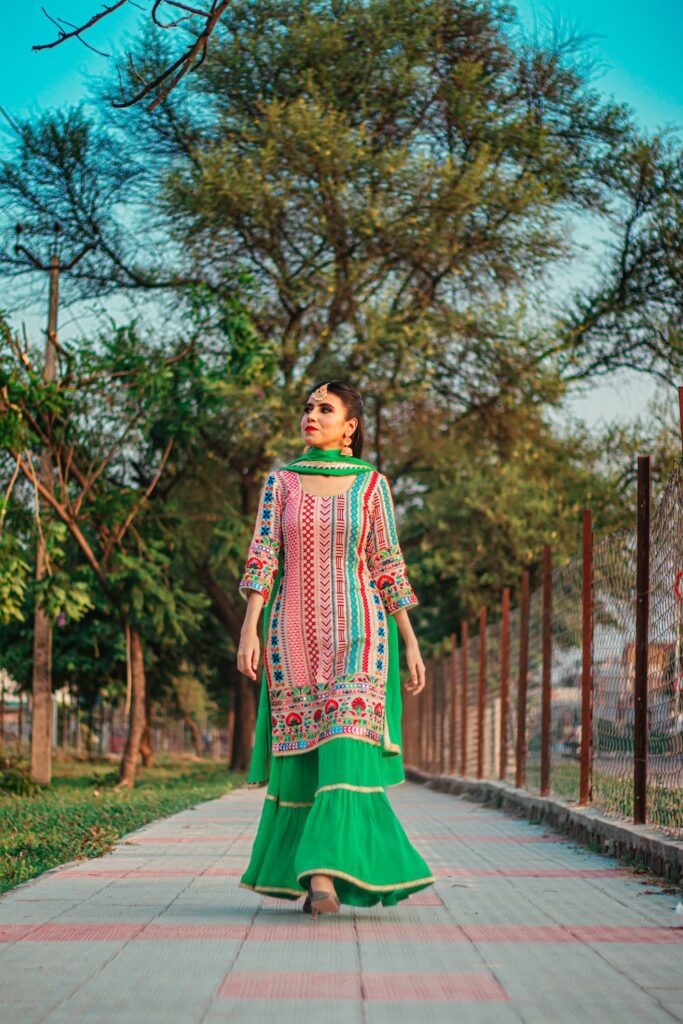 8. Elegant Chiffon Gowns
– Chiffon gowns with intricate embroidery and flowing silhouettes are perfect for those who prefer a contemporary, yet traditional look.
   – Accessorize with statement jewelry and a clutch to complete the ensemble.
9. Minimalistic Style: Simple Kurtas
– For those who appreciate simplicity, a well-fitted kurta in a rich, solid color can be dressed up with statement jewelry.
– Experiment with different necklines and sleeve lengths for a unique touch.
Conclusion
Diwali is a time to celebrate tradition, culture, and the spirit of togetherness. When selecting your Diwali outfit, consider your personal style and comfort while embracing the essence of the festival. Whether you choose traditional attire like sarees and lehengas, contemporary Indo-Western fusion, or elegant gowns, there's an outfit to suit every taste. The key is to radiate confidence and joy, for that's the true essence of Diwali – a celebration of light and love. So, as you prepare for the Festival of Lights, let your outfit be a reflection of your inner radiance, making you shine brighter than the candles and diyas that illuminate the night.