Diwali, the festival of lights, is one of the most celebrated and eagerly awaited festivals in India. It's a time for joy, togetherness, and renewal. As families and friends come together to celebrate the victory of light over darkness, one of the key aspects of the festivities is decorating homes in the most beautiful and welcoming way possible. In this article, we'll explore some of the best interior design ideas to make your home shine even brighter during Diwali.
1. Illuminate with Diyas and Candles
The heart of Diwali celebrations lies in the illumination of homes. Traditional oil lamps known as "diyas" and scented candles are the perfect additions to your home's decor. Place them in clusters on windowsills, balconies, and throughout your living space to create a warm and inviting atmosphere.
2. Rangoli Art
Rangoli is a traditional Indian art form where intricate patterns and designs are created on the floor using colored rice, flower petals, or colored powders. During Diwali, this practice is at its peak. Rangoli designs can be a beautiful and colorful addition to your home's entrance, adding a traditional touch to your interior design.
3. Add Vibrant Curtains and Drapes
Update your home's interiors with vibrant and colorful curtains or drapes. Opt for shades like deep red, orange, or gold to create a festive atmosphere. These additions can instantly transform the look of your living spaces.
4. Decorate with Flowers
Flowers are a symbol of purity and beauty, and they play a significant role in Diwali decorations. Marigolds, roses, and lotus flowers are commonly used for decoration. You can create garlands and floral arrangements to adorn your home.
5. Create a Beautiful Puja Room
Diwali is a time for religious observance, and having a well-decorated puja room is essential. Use brass or silver puja items and incorporate traditional symbols like the "Swastika" and "Om" to add an authentic touch.
6. Mirror Work and Embroidery
Consider adding decorative cushions or pillow covers with intricate mirror work and embroidery. These can add a touch of elegance and glamour to your living room.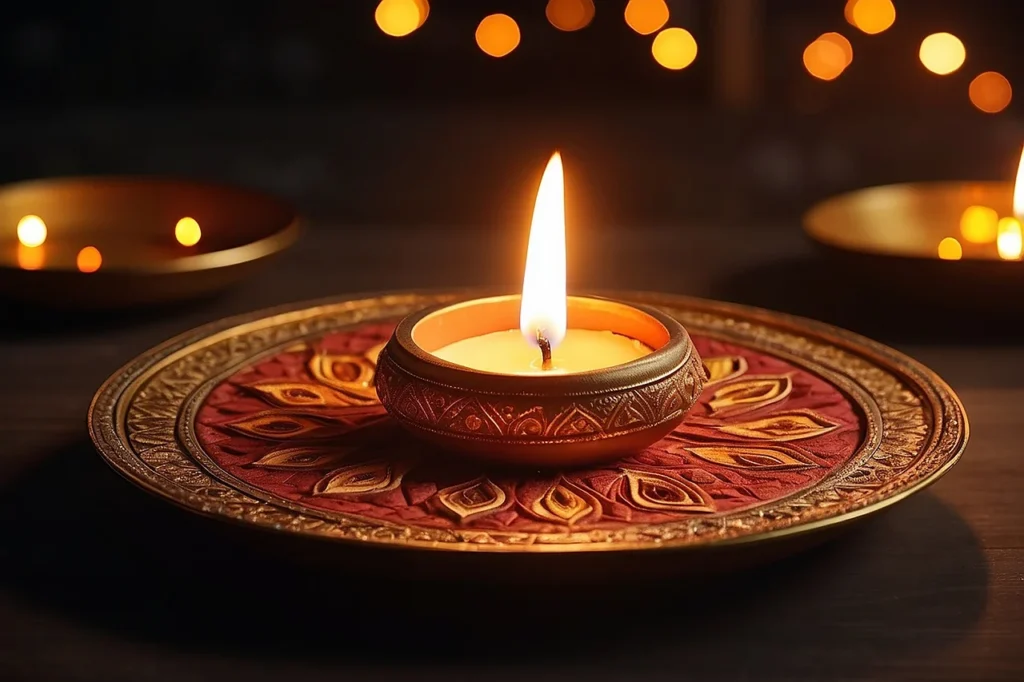 7. Artistic Wall Hangings
Wall hangings with traditional Indian artwork or tapestries can be a great way to add a sense of culture and beauty to your home during Diwali. These items not only look stunning but also tell a story through their intricate designs.
8. Use Eco-Friendly Decor
Opt for eco-friendly decorations like jute, clay, and paper-based items. These not only support sustainable living but also add a rustic charm to your decor.
9. Incorporate Metallic Accents
Gold and silver accents in the form of candleholders, vases, or decorative pieces can add a touch of opulence to your interior design.
10. DIY Decorations
Engage in some DIY projects with your family to create personalized decorations. Craft items like paper lanterns, painted diyas, or handmade torans (door hangings) can be both fun and rewarding.
Conclusion
Diwali is a time for rejuvenation and celebrating the victory of light over darkness. By incorporating these interior design ideas, you can transform your home into a warm and welcoming space for your loved ones. Whether you prefer a traditional or modern look, Diwali is the perfect occasion to infuse your home with culture and creativity. Happy Diwali!