Mumbai, India (October 25, 2023) – Crunchyroll, the ultimate anime destination for global fans, is excited to announce an extensive partnership with Comic Con India for their next five highly anticipated events across India. Crunchyroll will be the 'Powered By' partner of the iconic pop culture events by Comic Con for the next six months.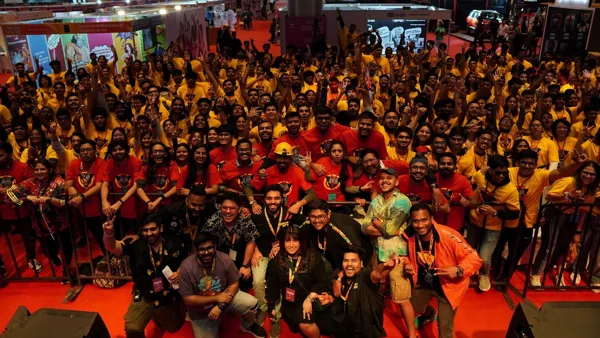 As the ultimate anime destination in India, Crunchyroll boasts the most extensive and diverse library of anime titles. In parallel, Comic Con India celebrates the diverse realms of comics, anime, gaming, and pop culture through its exciting fan events. This partnership promises to create a synergy that will enhance the event experience for all attendees.
Partnership with Crunchyroll will kick off from their Bengaluru Comic Con event starting on November 17th at KTPO Whitefield. The partnership will extend to upcoming events in Delhi (December 8th at NSIC Grounds, Okhla), Hyderabad (January 27th at Hitex), Chennai (February 17th at Chennai Trade Centre), and finally conclude in Mumbai (April 20th at Jio World Centre, BKC).
"We are thrilled to announce a dynamic partnership with Crunchyroll, the premier destination for anime enthusiasts, for our upcoming 5 events as our 'Powered by' Partner," said JatinVarma, Founder, Comic Con India. "We've witnessed a remarkable rise in cosplayers donning anime characters year after year at Comic Con, highlighting the growing love for anime in India. Having Crunchyroll on board is the perfect synergy, allowing us to further enrich fan experiences, create interactive engagements, and fostering connections among like-minded individuals. It's a testament to our commitment to bringing fans closer to the heart of their favorite anime content and creating unforgettable moments at our events."
Markus Gerdemann, Senior Vice President, Marketing at Crunchyroll said, "Partnering with Comic Con India, which is at the forefront of fandom and pop culture, will allow us to immerse Indian fans into the mesmerizing world of anime. We are looking forward to celebrating anime together and delivering even more experiences to connect fans with their favorite series."
About Crunchyroll
Crunchyroll connects anime and manga fans across 200+ countries and territories with the content and experiences they love. In addition to free ad-supported and membership Premium content, Crunchyroll serves the anime community across events, theatrical, games, consumer products, collectibles, and manga publishing.
Anime fans have access to one of the largest collections of licensed anime through Crunchyroll and translated in multiple languages for viewers worldwide. Viewers can also access simulcasts – top series available immediately after Japanese broadcast.
The Crunchyroll app is available on nearly 15 platforms, including most gaming consoles.
Crunchyroll, LLC is an independently operated joint venture between U.S.-based Sony Pictures Entertainment and Japan's Aniplex, a subsidiary of Sony Music Entertainment (Japan) Inc., both subsidiaries of Tokyo-based Sony Group.
About Comic Con India:
It is the biggest pop-culture experience in India with a decade-long track record of bringing the fans of comics, toys, merch, gaming, movies, TV and more; under one roof. With events in multiple cities attracting over 220K plus visitors and an even larger digital audience of over 25 million with more than 156 million in cumulative social reach. The 2022-23 season marked a spectacular return for our live events, bringing in the largest turnout in our history.